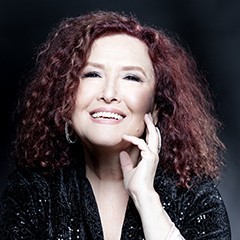 In 1980, MELISSA MANCHESTER became the first recording artist in the history of the Academy Awards to have two nominated movie themes in a single year, "Through The Eyes Of Love" from Ice Castles and "I'll Never Say Goodbye" from The Promise, and to perform them both on the Oscar telecast. MELISSA starred in the national tours of Andrew Lloyd Webber's Music Of The Night and Song And Dance, and created the role of Maddy, the title character's mother, on the NBC hit TV series Blossom.
Nominated for a Grammy in 1980 for "Don't Cry Out Loud," she won the Grammy Award for best female vocalist in 1982 singing "You Should Hear How She Talks About You."
MELISSA has composed music for the animated features The Great Mouse Detective and Lady And The Tramp II, the sequel to the Disney classic. In addition to composing the scores for the theatrical musicals I Sent A Letter To My Love and Sweet Potato Queens, MELISSA also co- wrote the radio mainstays "Midnight Blue", "Come In From The Rain" and "Whenever I Call You Friend."
MELISSA celebrated her forty-five-year career with the release of her 21th album, The Fellas, a tribute to the iconic male singers who set the platinum standard for the music of the great American songbook. Her 2020 album, ReVIEW, features previously unreleased songs as well as fresh takes on several of MELISSA's enduring classic hits.