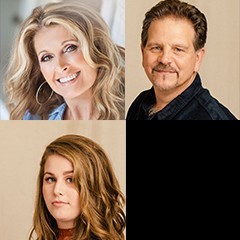 For Linda Davis & The Scott Family, it is definitely a family affair with an emphasis on family-oriented entertainment. Linda Davis and Lang Scott are the cornerstones of the group. Married for 34 years, they are parents to 18-year old Rylee and Hillary, a member of one of country music's biggest acts, Lady Antebellum. As a family, the Scotts released the award-winning faith-based album, Love Remains, in 2016, which won two Grammys as well as Dove and Billboard Awards.
In addition to the honors she won as part of Love Remains, Davis is a multi- Grammy-award winning recording artist who has toured and recorded with superstars including Reba McEntire ("Does He Love You") and Kenny Rogers. She also toured as opening act for George Strait and Garth Brooks. She makes frequent guest artist appearances on the Opry and RFD TV 's popular show, Country's Family Reunion.
Her husband, Lang Scott, is a former recording artist for MCA Records and the first winner of the national TV show You Can Be A Star. His songs have been recorded by a number of top country artists, including LeAnn Rimes and JoDee Messina. For eight years, he was featured in Reba's band as guitarist and background vocalist, and played on many of her biggest records.
Youngest daughter Rylee has always loved music and theater, and has been in countless school and community plays. Having spent her entire life surrounded by music and talented musicians, it was only natural that she gravitated towards music, not only as a vocation, but also a passion.
Together, Rylee, Scott and Davis tour as Linda Davis & The Scott Family, offering audiences their harmony driven songs and behind the scenes stories of family life and from the perspective of being inside the goldfish bowl that is country music.
"We have been blessed to tour and record with some of the biggest names in music," said Lang Scott. "But there's nothing like being able to work with your family, creating memories for ourselves as well as the music lovers who come out to see and meet us. It's a feeling that has no equal.