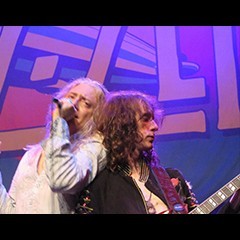 "I walked in, I saw me"
That was what Robert Plant himself said of Letz Zep. He continued to say that it is like watching himself on stage
Letz Zep are the official number one tribute to Led Zeppelin and Baby They Ain't Foolin'. Awarded the band 'The Most Popular' and 'The Most Highly Rated' tribute
"That was ambitious, but you pulled it off", said Jimmy about the set Letz Zep performed in his presence. Jimmy continued "You have captured the spirit of Led Zeppelin concerts, you really are very, very good". Jimmy was then kind enough to personally invite Letz Zep to perform at the prestigious official launch party for the Led Zeppelin 'Mothership' release, and also the launch party for the remastered 'The Song Remains The Same' DVD
Letz Zep were honoured and proud to perform a headline set at the 'John Bonham – A Celebration' concert. To celebrate the life and legacy of the great John Bonham and to coincide with the unveiling of a bronze statue to the legendary percussionist in his home-town of Redditch.
Letz Zep is formed by talented and respected musicians who are all true Zep fans with a strong musical pedigree. Its members have toured with artist such as Ozzy Osbourne, Roger Daltrey, Debbie Bonham, Guy Chambers, Steve Hackett, Dr Feelgood, Saxon and Uriah Heep, to name but a few.
Described in Kerrang! Magazine as 'Better than a Led Zeppelin Re-union', all four members possess the considerable musical ability required to a completely convincing recreation of Led Zeppelin in their prime, complete with the 'tight but loose' trademark element so essential to the raw excitement of a Led Zeppelin concert.
What people are saying about Letz Zep:
'I walked in, I saw me, it's like watching myself on stage' – Robert Plant
'That was ambitious but you pulled it off, stay in touch' – Jimmy Page
'I've heard a lot of good things about you, you're the band Robert went to see, good luck with it' – John Paul Jones
'This is the closest you are ever likely to see or hear' Janick Gers, Iron Maiden.
'Sound amazing' – Steve Winwood.
'it is literally the stairway to heaven…a perfect performance' Regina Buddeke Maz-Online.
'There are good tribute bands and there are bad tribute bands, then there is Letz Zep, who are monsters an play in a different league to the rest' – Metal Portal.
'Better than a Zeppelin re-union' Kerrang!
'Not only do Letz Zep deliver onstage, they also recreate their more notorious backstage antics too' – Amsterdam Weekly.