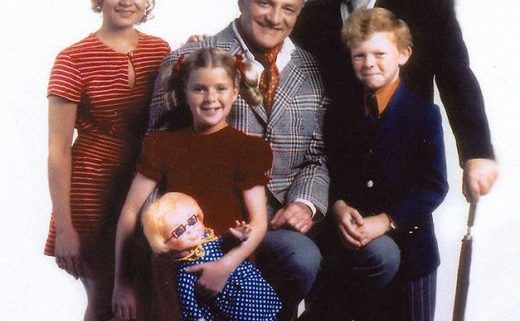 Most fondly remembered for her starring role as "Cissy" in the long-running CBS international television hit, Family Affair, Kathy Garver has also garnered critical acclaim in movies, stage, radio, voice-over animation, and audio book narration.
Kathy was born on December 13 in Long Beach, California to Hayes and Rosemary Garver joining her sister, Beverly, and brothers, Hayes, Jr. and Lance.
Her acting career in television began when she was just seven years old.  When she was just eight years old, Hollywood legendary director Cecil B. DeMille recognized Kathy's distinct talents.  Originally hired for a small part in the epic motion picture, The Ten Commandments, Kathy was noticed by the great director who then had special scenes written into the movie to highlight the talented little girl.  The award-winning movie followed her first film, The Night of the Hunter, directed by Academy Award winner, Charles Laughton.  During her teenage years, she added radio and stage to her burgeoning film and television career.
Kathy was a freshman majoring in speech at UCLA when she was tested for a television series entitled Family Affair (1966-1971).  Kathy, deemed perfect to star as "Cissy" with Brian Keith as "Uncle Bill" and Sebastian Cabot as "Mr. French," starred for five years in one of the warmest and most enduring series of the 1960's and 1970's.  With "Buffy" and "Jody", the show continues to be popular today pleasing old and new audiences world-wide as a true classic.
Filming Family Affair demanded much from Kathy: "Brian Keith only worked for about half the production schedule so the rest of us would have to film scenes from as many as six different episodes in one day," she recalls.  "I actually had to do most of my close-ups with the assistant director, a paunchy middle aged man glued to a cigar, standing behind the camera.  I had to use a lot of imagination to perform with him playing my six-year-old sister, "Buffy!"
After Family Affair, Kathy starred in an Israeli musical-stage version of the TV series, learning Hebrew phonetically for her role.  Later, she continued dramatic studies at London's prestigious Royal Academy of Dramatic Art, where she portrayed "Juliet" in Shakespeare's Romeo and Juliet.  Dramatic and comedic productions in the states followed including starring roles in My Fair Lady, Sunday in New York, A Midsummer's Night Dream and The Trojan Women.  At the conclusion of this work, she returned to UCLA to earn a Master's Degree in Theatre Arts.
Today, Kathy is an accomplished and versatile actress, appearing in such films as Sweet November and The Princess Diaries Mom, Murder and Me along with made-for-television movies such as F.B.I. Murders and Hercules Saves Christmas with guest-star roles on many TV series.  She is a sought-after celebrity on game shows, winning top money for charities such as Street Smarts and other reality programs.
Having majored in speech at UCLA, Ms. Garver teaches speech, diction, character development and audio-book narration at Voice One Studios in San Francisco, American Eagle Studios in Santa Rosa, and workshops throughout the country.  Ms Garver is an accomplished host and in demand for her interviewing prowess. She has hosted Backstage with Barry and Kathy, StarWatch, Marathons for MeTV, and Family Tree Recipes among other hosting responsibilities.
Kathy has used her wealth of experience and education to entertain and instruct thousands of people with her exciting and successful motivation and interactive speeches and presentations.
Kathy is very much in demand for her numerous vocal characterizations.  She is a standout in the very competitive field of voice-overs for cartoons, commercials, toys and audio books.  She voiced "Pepper," an automotive whiz in the Chuck Norris Karate Kommandos TV series and "Firestar," a mutant super hero in the Spiderman and His Amazing Friends TV series.  Kathy produced, narrated and wrote lyrics and original music for eight audio Beatrix Potter tales and eight Mother Goose-based audiotapes for Smarty Pants, Inc.  Kathy's Beatrix Potter tapes have sold over two million copies and have won numerous awards.  She has recorded books for Brilliance Audio, The Dove Foundation, and Listen and Live Audio.  Her voice has been heard in Back Draft, Apollo 13 (which achieved the Academy Award for sound), Ransom, and Jingle all the Way.  Kathy has recorded more than 80 audio books garnering four prestigious Audie awards in the process.
Having served on the board of the Young People's Committee of the Screen Actors Guild and as a volunteer for BookPALS (Performing Artists for Literacy in Schools), Ms. Garver has used her experience to help guide new actors in the business.  She is also involved in such charities as the Child HELP Foundation (which aids abused children), Rose Resnick Lighthouse for the Blind and Visually Impaired and the Make-A-Wish Foundation.  Ms. Garver is President of The Family Affair Foundation which provides reading companions to the elderly and at-risk youth.
Winning accolades such as Best Actress from Family Television Awards, Kathy continues her award winning presence by securing recognition from the entertainment world.  Recent awards include two more Audie Awards, one for her narration of The World's Best Short Stories, the other for her direction of Amy Tan in The Opposite of Fate, read by the author.  She was also recognized by the Young Artists Foundation with the "Former Child Star Lifetime Achievement Award" and the Emerald Award from the Southern California Motion Picture Council. In 2013, this prestigious organization also bestowed on Ms. Garver the highly-esteemed Golden Halo Lifetime Achievement Award, putting her in league with such stars as Mickey Rooney and Margaret O'Brien.
Kathy now has her own family affair.  She met her husband of 35 years, business executive David Travis, on a tennis court in Palm Springs—truly a love match.  Their son Reid Garver Travis, now 25, continues the tradition of show business by appearing in occasional entertainment roles, but has set his sights on business and turning his creative ideas into entrepreneurial successes.
Ms. Garver recently added author to her long list of accomplishments. Her first book, The Family Affair Cookbook, published by Bear Manor Media is a tasty trip down memory lane with anecdotes and photos, has received excellent reviews.  Her following book, Surviving Cissy: My Family Affair of Life in Hollywood was released in 2015 and sold out in three months — a reprint has been ordered.  X-Child Stars: Where Are They Now was launched  in 2016 and is already planned for a reprint.  X Child Stars: The Movies will be released in 2017.  IN 2018 Bear Manor Media is releasing her newest book Holiday recipes for a Family Affair
Obviously, Kathy doesn't suffer from the sometimes-exaggerated maladies common to former child actors.  "The hardest thing is being accepted as someone who has depth," she says.  "Fortunately my parents stressed education and normalcy all through my childhood and during my Family Affair days.  In learning to think and work independently, I firmly believe in hoisting one's own sails!"
In 2017 she is producing and starring in A Family Affair to be Remembered documentary to commemorate the 50th anniversary of Family Affair. She is also hosting StarWatch a Talk show which honor the recipients of the Golden Palm Star for the Walk of Stars in Palm Springs. Ms Garver is also starring with former child stars, Tony Dow (Leave it to Beaver) Barry Livingston (My Three Sons) and Caryn Richman (Gidget) in a new play 'Dinner at Five written by Lloyd Schwartz (Gilligan's Island producer/writer and Brady Bunch producer/ writer) directed by Ted Lang (Love Boat) destined to be a true classic) Kathy also has a new pod cast debuting with co-host Marty Bickel entitled Everything Classic –  if Kathy Garver is anything  she is a true classic!
For all her accomplishments, including her new Cissy crunch candy bars and Cissy candles, Kathy's sails will be billowing in some very favorable waters for quite some time.