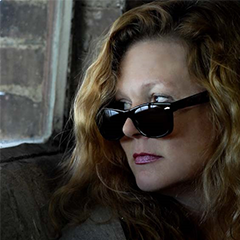 Listen to Jonell Mosser just once in concert and you'll be an instant believer. She sings with all-out passion and heart. No frills. No games. Just a soulful intensity that makes you realize you're in the presence of the real thing, not some manufactured, corporate-approved diva of the sort littering the landscape these days.
By STEVE MORSE, former staff writer at the Boston Globe for nearly 30 years, who has also written for Billboard and served on the nominating committee of the Rock and Roll Hall of Fame.
Jonell is as honest as they come, both in her personal life and in her music, which is stunning in its raw power, scope and ability to take you places you've never been. She has survived bad business breaks and regrettable timing. In addition to her four official album releases, she has made three records that never came out because of various hassles. But she's not about to give up
her dream.
She may be a best-kept secret in some quarters, but if you believe in karma and talent, then Jonell will have her day. "I'm a hippie, honey, from way back," the Kentucky native says with a laugh while sitting in her instrument-filled home in Nashville. "I'm not so much about thinking as about doing. And I'm not done with this yet. I plan to be involved with (my career) more and more. I relish that. Jonell has a voice that can belt like Janis Joplin but also convey the finesse of folk, jazz and Southern soul. She is a true musician's musician. Her own records have been first-rate, but she has also been summoned to sing backup studio vocals for the likes of B.B. King, Trisha Yearwood, Etta James, Wynona (on the hit "No One Else on Earth"), Rodney Crowell, Vince Gill, Waylon Jennings, Patty Smythe, A.J. Croce and Bruce Cockburn on his popular "Last Night of the World." Not many artists can boast that kind of respect. "For my whole career, I've gotten the question, 'Why aren't you a bigger star?' " Jonell says. "But I'm not the person to answer that question. I've had the chance to do so many things, but it just hasn't been my time yet."
Jonell started singing at a young age, rising to do jazz standards in piano bars in her childhood home of Louisville. Her dad, a retired Air Force Master Sargent, had died of a heart attack when she was 3, so she was brought up by her mother, Joy, who loved jazz. "I listened to all the big bandstuff," Jonell recalls. "I loved Rosemary Clooney, Nat King Cole and Billie Holiday. She bought me 45s and albums from the time I was 5 or 6. Later on, my brother had great records by Jethro Tull, Al Green and Dobie Gray."And what about Janis Joplin, to whom she has been compared? "I didn't like her at first. Janis seemed unattainable. And on the other side, Aretha Franklin seemed unattainable. So I was drawn more to men's voices, like when I heard Otis Redding for the first time. And James Taylor, of course. I adored him and Jackson Browne and Dan Fogelberg. And then I found Lowell George and Little Feat." Jonell attended Western Kentucky University, but dropped out to perform. She was in the Ken Smith Band, playing up to six nights a week, and an all-girl group called Yo Mama. She also met her first husband, John Cowan, lead singer of the New Grass Revival, and moved to Nashville. She started doing studio sessions and was part of another all- female act, eventually called Girls Girls Girls, with Karen Staley and Lee Satterfield. She also loved Texas singer-songwriter Townes Van Zandt {whom she first met in Bowling Green around 1978 or '79} and her debut album was a 1996 compilation of Townes covers called "Around Townes." She then came to the attention of Bonnie Raitt producer Don Was, after hearing her do demos of Townes' songs to be pitched to Raitt. Don Was was so supportive that he soon put a band together with Jonell as lead singer. He rounded up A-listers such as guitarist Mark Goldenberg from Jackson Browne's band, keyboardist Benmont Tench from Tom Petty's Heartbreakers, and — get ready — Beatles drummer Ringo Starr. They recorded 7 songs and were named the New Maroons. They played Farm Aid in Ames IA and one other gig, but the recordings were shelved because other projects took precedence. She also signed a deal with MCA with Was producing and cut and mixed a record in Nashville and LA. One song, a 6/8 version of the Supremes' "Stop in the Name of Love," later landed on the soundtrack to "Hope Floats," the 1998 film starring Sandra Bullock and Harry Connick Jr. Although there is no chance in her mindof the MCA record seeing the "light of day", incredibly, there may still be a chance of the New Maroons album coming out in the future. "Hope springs eternal," says Jonell. Her second album was "So Like Joy" in 2000, a smart, sophisticated batch of songs that Jonell wrote with John Hall (of Orleans fame) and his wife, Johanna. They have been major believers in her. The disc included the high-arcing ballad "Do You Love Me" and the stylish title track, about letting go of regret. It is a connoisseur's record.Next up was "Enough Rope," a 2001 album that Allmusic.com proclaimed had "enough class, muscle and tough grace to stand out from the pack." Then a lull followed as Jonell turned to raising her sons, before her "powerful "Trust Yourself" CD came out. The title track was a Dylan song given new heft by Jonell, while other stand outs were three co-writes with the Halls, and a sax-laced soul version of Harlan Howard's "The Chokin' Kind." Jonell has kept busy with some vital side projects. One is the band Kentucky Thunder, with Tom Britt's sister-in-law, Etta, and singers Sheila Lawrence and Vickie Carrico. And perhaps the most intriguing project she's been involved with in the last few years or so is being one of the Freedom Singers, who perform under the auspices of the First Amendment Center headed by former USA Today editor Ken Paulson. They feature songs that were once banned or censored, such as George M. Cohan's "You're a Grand Old Rag" (later changed to "Grand Old Flag") and the controversial Billie Holiday tune, "Strange Fruit."It adds up to a highly unique career with no end in sight. "I've made a lot of mistakes in this business, but I feel successful as a human being," says Jonell. I play and sing every day" "I've gotten to sing with Mavis Staples. I've gotten to sing with Levon Helm, and with Sam Moore, Bruce Cockburn, Waylon Jennings and Kris Kristofferson. I've gotten to meet and play music with so many great people, most of whom I feel I can call my friends" "That means everything to me" Now it could be Jonell's moment to grab the spotlight. "I feel a tidal wave coming," she says hopefully. "I just don't want to get buried by it. I want to ride it."