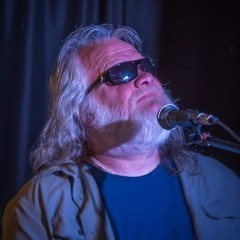 Born blind, musically gifted and overflowing with soul, Johnny Neel cut his first record at the age of 12.
Today, he is well-known as one of the country's most soulful and versatile players. Neel's Blues, Funk, Jazz, R&B, Gospel, Country and Southern Rock all fused into one deep-rooted sound, renders him sought after by many top music industry professionals across the globe.
Although an amazingly gifted pianist, B-3 organist, and harmonica player, Neel is best known for his songwriting. Formerly with Allman Brothers (1989-1991), Neel is a Grammy Nominated Keyboardist, Singer/Songwriter, and a recipient of the Grammy Lifetime Achievement Award.
Among other chart topping hits, Neel co-wrote the Allman Brothers "Good Clean Fun" with Allman and Betts, which provided the Allman Brothers their first #1 hit in over 15 years. Many of Neel's songs have been recorded by such artist's as Montgomery Gentry, Delbert McClinton, John Mayall, Dickey Betts, Michael McDonald, John Louis Walker, Gov't Mule, as well as cuts with HBO, FOX Sports and Disney.
Johnny Neel has shared the stage with many great artists such as: BB King, Widespread Panic, Steve Winwood, Garth Brooks, Charlie Daniels, Jamey Johnson and Bruce Willis. Other musical associations, including songwriting over the years are: Bonnie Riatt, Huey Lewis, Bruce Hornsby, David Allen Coe, Joe Diffie, Keith Whitley, Suzy Bogguss, Ann Peebles, Deep Fried, W.I.N.D, Keith Urban, and the list goes on…
Johnny Neel has tours all over the US and Europe, astonishing audiences with his powerful vocal and amazing keyboard technique.
Johnny Neel – The Real Deal. A MUST see for serious music enthusiasts.