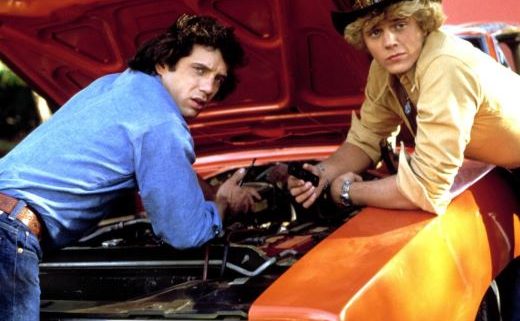 John Schneider has graced television screens, made an impact in the film community, and delighted the country music world for decades by eloquently delivering stories in a way no one has before. He landed his television debut in 1978 as Bo Duke on CBS's The Dukes of Hazzard, went on to play the role of Jonathan Kent – Superman's father – on the CW's Smallville and today as the powerful Judge Jim Cryer in the Tyler Perry smash, The Haves and the Have Nots on OWN. In addition, he starred in Dream House, Stagecoach, Happy Endings and Run, where he played opposite Kirk Douglas and appeared in shows like Desperate Housewives, 90210, The Secret Life of The American Teenager, Nip/Tuck, The Mummy, and Touched by an Angel. Today he owns and operates the John Schneider Studios (JSS) with producing partner, Alicia Allain of Maven Entertainment where they have unleashed films Like Son, Anderson Bench, Inadmissible, Smothered and 4:GO and reshaped his music career with Ruffled Skirts and Odyssey. The two formed CineFlix Digital on Demand a premium streaming subscription based service that showcases all of their films and exclusive behind the scenes content for fans. Keeping the independent mindset, they continued by formulating CineFlix Fest a traveling show that provides groundbreaking opportunities to filmmakers, including a distribution contract proving their dedication to providing filmmakers an unprecedented opportunity for success.
A jack of all trades, John swooped America off their feet with his unequivocal performance as Bo Duke, but what they never were anticipating was his unique musical talent. It was in the early 80's that John would sign with Scotti Brothers Label and unleash his debut full-length, Now or Never, which peaked at #8 on the US Country Billboard charts. Also from the album came "It's Now or Never," a remake of the Elvis Presley hit, which peaked at #4 on the US Country Billboard charts in 1981 and remains the top charting Elvis cover of all time in any genre to date. Continuing to release albums year after year, John unleashed Quiet Man and If You Believe and in 1984, signed with MCA Nashville. Through MCA Nashville, John released Too Good to Stop Now which included his first #1 hits, "I've Been Around Enough to Know" and "Country Girls," also peaking at #1 on the CAN Country music charts, cementing his way into the country music world. The following year, John unleashed Tryin' To Outrun the Wind, followed by A Memory Like You which debuted at #1 on the US Country Billboard charts, a first for him. Off the pinnacle album A Memory Like You came "What's a Memory Like You (Doing In A Love Like This)" and "You're The Last Thing I Needed Tonight," singles which both peaked at #1 on the US Country Billboard charts and CAN Country. In the late 80's, John continued unleashing albums including his quintessential Greatest Hits record. Taking some time off to pursue acting opportunities, he would return with Worth The Wait, John's Acoustic Christmas, The Promise and his most recent album, Home For Christmas, with The Dukes of Hazzard co-star, Tom Wopat in 2014.
In 2017, John made his triumphant return to the country music scene with Ruffled Skirts, a near and dear album to him that pays homage to Louisiana royalty, including some of the individuals from LeRoux ('New Orleans Lady'), Jo-El Sonnier, Doug Kershaw, David Hyde who played bass on the album and Randy Carpenter who played drums on the album and is dedicated to the people who were affected by the flood. In 2016, the community of Southern Louisiana was hit twice by major flooding in a matter of six months. The floods ravaged the John Schneider Studios which sat in nearly 4 ft of water. Sitting in the recording studio with no furniture, he began arranging songs like "How Do You Stop The Water," "The Cajun Navy, " and "Every Friday Night" before enlisting in songwriters Scott Innis and Phil Redrow to help bring the songs to life. Instead of sitting in songwriting sessions, he and producing partner Alicia Allain sent photos and video to Innis and Redrow of the devastation that Louisiana endured to eloquently capture the monstrosity of the flooding through music. The songs came to life when he recorded each track in his bare studio creating a perfect space to take in the right sound. John then enlisted in LeRoux's keyboardist/vocalist Nelson Blanchard to mix and master the 10-track album.
In 2018, John returns with Odyssey, a 52-song collection that will redefine the music industry. Combining his love for TV and his musical talent, John plans to release Artist Studio Access, a 30-minute TV show via CineFlix Digital on Demand, that dives into the behind the scenes of making each song, unique guest interviews, and stories like never heard before. With the effort of Nashville's most sought after songwriters and musicians, John, producing partner Alicia Allain, and famed drummer/producer Paul Leim recorded 52 of the best songs never touched before with Bob Bullock at Backstage Studios. They enlisted in songwriters Paul Overstreet, Chuck Cannon, Keith Stegall, Jenee Fleenor, Mac Davis, and Bill Anderson, to name a few, to eloquently tell stories that are relatable to all, while providing an uncanny ability to speak to just about anyone. Bridging country music with americana, blues, and r&b undertones, John provides the roots to a well cultured and unique spin on a beloved genre. Collaborating with Nashville's finest musicians like Steve Gibson, Matt Rollings, and Glenn Worf, Odyssey was built off of pure talent, dedication, and finesse. The project kicks off with a Waylon Jennings tribute of "Good Ole Boys," the theme song from The Dukes of Hazzard which features guest vocals from Tanya Tucker, John Conlee, Matthew Nelson, Gunnar Nelson, Doug Supernaw, Mark Wills, Heidi Newfield, Bobby Bare, Dave Gibson, Ray Scott, T. Graham Brown, T.G. Sheppard, Jo-el Sonnier, Kelly Lang, Jim Brown, Allie Coleen, Steve Wariner, Colin Raye, Max T. Barnes, Jamie O'Neal, Kalie Rose, Danny Shirley, and Marty Raybon and will continue with a new song release every Tuesday in 2018.
Continuing to reinvent the wheel, John and Alicia have launch an all-new live variety show entitled Yee Haa, an ode to the beloved show, Hee Haw. Providing all of the foot stompin', belly laughin', and good times, the show offers an ensemble of comedians, singers, dancers, and world class musicians from around the country, including guest appearances by Ruth Buzzi and Lulu Roman. Set at JSS's Moonshine Barn, fans are taken back to the good ole' days of live variety TV.
Fans can be on the lookout for up to date information regarding John Schneider, JSS, Yee Haa, and more at JohnSchneiderStudios.com.