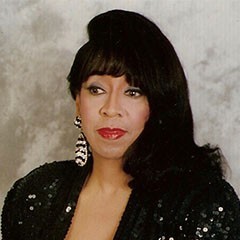 Born Sarah Jean Perkins in Columbus, Georgia, Jean Carn was raised in Atlanta, Georgia. Her singing ability was so striking that at age four she sang solo with her church choir. Encouraged by her parents, Carn became proficient on the piano, organ, clarinet, English horn, oboe and bassoon.
Jean attended Booker T. Washington High School in Atlanta, participating in an experimental course of study which included Russian, advanced mathematics and sciences. Upon graduation, she accepted a scholarship to Morris Brown College, where she not only continued to study Russian but vocally (German lieder, French art songs, Italian arias) and instrumentally performed every genre from musical theater to the classical repertoire. Carn dashed her plans to attend Juilliard School of Music in New York when she met and married Jazz pianist, Doug Carn and partnered with him in what would become a trend setting jazz-fusion tradition.
The couple eloped to Hollywood, California, where they were invited by their neighbor, Earth Wind And Fire leader, Maurice White to appear on the group's first 2 albums on Warner Bros. Records, "Earth Wind And Fire" and "The Need Of Love".
Doug and Jean soon released the first of their three albums – "InfantEyes" followed by "Spirit Of The New Land" and "Revelation" on Black Jazz/Ovation Records. Jean's vocal interpretations of instrumental classics brought by Jazz greats such as John Coltrane, Miles Davis, McCoy Tyner, Lee Morgan and Horace Silver, expanded the display of her musical abilities to Jazz Lovers, worldwide.
As feature singer and vocal arranger for Norman Connors, Jean acted as vocal coach and producer for Glen Jones, Phyllis Hyman and Michael Henderson, with whom she recorded the 1975 hit, "Valentine Love."
In 1976, Jean signed to Kenny Gamble and Leon Huff's Philadelphia International Records. Her debut album in 1977, "Jean Carn" merged the best of '70s soul and jazz compositions by Gamble and Huff with instrumental support from MFSB and Instant Funk. The debut single "Free Love" became and remains, a tremendous international dance anthem. In June 1978, her second album for the label, Happy to Be With You was released and included the hit single "Don't Let It Go toYour Head," which has been covered by numerous artists including, The Brand New Heavies, rap group Brand Nubian and Will Downing.
Carn's third Philadelphia International album, "When I Find You Love" was produced by Dexter Wansel, Gamble and Huff and Jerry Butler. The Oscar winning movie, Precious by Lee Daniels, Oprah Winfrey and Tyler Perry, features Jean Carne's disco single "Was That All It Was."
1981 brought Sweet and Wonderful, which featured a duet that introduced singer, Glenn Jones and contained a remake of the Spinners' "Love Don't Love Nobody" on which Jean sang all the backgrounds.
Carn moved to Motown Records in 1982, making her label debut with the album Trust Me. The single "If You Don't Know Me By Now" a cover of the Harold Melvin and the Blue Notes hit featured backing vocals by The Temptations.
In 1987, before signing with the Omni/Atlantic label, Jean added an "e" to her last name on the advice of numerologist/astrologist, Lloyd Strayhorn. Closer Than Close, produced by and featuring iconic jazz saxophonist, Grover Washington, Jr. was released in July of that year and the title track climbed to #1 on the R&B charts.
Her 1988 album "You're a Part of Me" included a hit cover of Aretha Franklin's "Ain't No Way," produced by Nick Martinelli.
Carne signed with Place One Entertainment in 1995 that which reunited her with former Omni/Atlantic president, Steve Bernstein, yielding her Love Lessons album that featured a duet with Jean's longtime friend and label mate, Billy Paul.
Expansion Records released Closer Than Close the Best of Jean Carn and Collaborations, featuring Carne's various musical pairings with artists such as Grover Washington Jr, Billy Paul, Michael Henderson, Roy Ayres, The Temptations and Al Johnson.
In 2011, Expansion Records released remixes of #1 UK singles "Whatever It Takes" and "Tell Me What's Wrong." In 2018, SoulMusic Records/Cherry Red Records released a 2 CD compilation, 'Don't Let It Go To Your Head' (The Anthology) that contains 33 of Carne's favorite recordings.
Jean has recorded and shared the stage with some of music's most prolific artists, producers and songwriters over the years, including Rick James, Stevie Wonder, Lou Rawls, The O'Jays, Phyllis Hyman, George Duke, among other stellar performers. Having begun working with vocalists since the age of 12, Carne has vocal coached numerous singers including Supremes' Mary Wilson and Michael Jackson.
Whether you happen to be fortunate enough to catch Jean Carne performing a gospel classic in church on Sunday, a Handelian Aria in a concert hall, her number one recording before a packed stadium festival crowd, or perhaps a disco classic in a hit movie; your musical hunger is sure to be more than quenched.