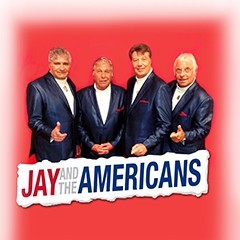 JAY AND THE AMERICANS, started by four teenage boys in Sandy Yaguda's Brooklyn basement fifty years ago, is one of the lasting success stories in Rock 'n Roll history. Few bands have ever reached the musical heights of JAY AND THE AMERICANS. From 1962 to 1971, this group charted an amazing twelve Top Ten records. With three original band members, founding member Sandy Yaguda (aka Deanne); original member Howie Kirschenbaum (aka Kane); and original member Marty Kupersmith (aka Sanders), plus the addition of Jay Reincke, the third and likely the best "Jay" yet, they have recreated the authentic sound of their greatest hits.
JAY AND THE AMERICANS' first recording was Tonight (from the musical West Side Story); but their breakout hit song was She Cried. The group's next chart hit was Only In America, followed by top-ten hits Come A Little Bit Closer, Cara Mia, and This Magic Moment. These songs and many others are featured in JAY AND THE AMERICANS show, along with stories of the artists and writers who influenced this 1960s super-group.
JAY AND THE AMERICANS' recording of Some Enchanted Evening holds the record for most copies sold of this legendary musical masterpiece. The group also holds the distinct honor of recording the great Neil Diamond's first hit song, Sunday and Me. Their recording of Crying pays tribute to the legendary Roy Orbison, with whom they toured, along with many other acts including The Beatles and The Rolling Stones.
In 2002, JAY AND THE AMERICANS were inducted into the Vocal Group Hall of Fame, placing them among the greatest vocal groups in Rock 'n Roll history.