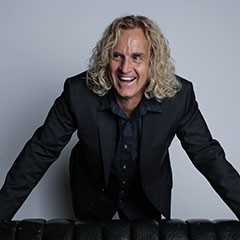 Jason Scheff, Longtime Tenor Lead Vocalist of the Rock and Roll Hall of Fame inducted supergroup Chicago.
Scheff joined the group in 1985 replacing the iconic vocalist/bass player Peter Cetera going on to be one of the principal songwriters and main contributors throughout Chicago's career. Scheff's songwriting, vocals, and musicianship helped create the most successful recording era of Chicago, the 80s and 90s including hits such as…
Will You Still Love Me (#3 pop – lead vocals)
What Kind Of Man Would I Be (#5 pop – songwriter, lead vocals/bass)
Look Away (#1 Billboard song of the year – 1989, background vocals/bass)
I Don't Want To Live Without Your Love (#3 pop – background vocals/bass)
You're Not Alone (#10 pop – background vocals/bass)
If She Would Have Been Faithful (#17 pop – lead vocals)
We Can Last Forever (#1 AC – songwriter, lead vocals/bass)
Scheff is also the voice across 4 decades, 80s, 90s, 2000s, 2010s, performing all the classic Chicago hits in thousands of concerts, television appearances, (most notably his blistering performance of "25 or 6 to 4" at the Rock and Roll Hall of Fame ceremony for Chicago's induction in 2016.
These hits include…
You're The Inspiration
Hard To Say I'm Sorry
If you Leave Me Now
Hard Habit To Break
Just You And Me
Feeling Stronger Every Day
Old Days
Alive Again
Saturday In The Park
25 or 6 to 4
(I've Been) Searching So Long
Questions 67 and 68
CHICAGO is the Top American Band in Billboard chart history and #4 overall, behind the Beatles, the Rolling Stones and the Bee Gees
3 #1 pop hits including Billboard Song of the Year 1989, "Look Away"
20 Billboard top 10 hits
46 Billboard Pop Hits
Chicago has sold over 120,000,000 records
"When I knew I wanted to pursue music as my lifelong career as a young boy, Chicago was my band. Chicago 16 and 17. Those records made me want to do this. When I found out Peter Cetera had left the band in 1985 I was crushed. I thought my band was over, for good.
Then, in 1986 Chicago 18 was released and I found out they had a new guy. I thought it would be impossible. The video for "Will You Still Love Me" came on MTV and I ran into the next room telling my mother, They found the guy! Jason Scheff! It's going to work!"
Jay DeMarcus – Co-founder, vocalist/bass player, songwriter, producer of the iconic Country group Rascal Flatts. Producer of Chicago 30 as well as Jason Scheff's upcoming solo release "Here I Am".