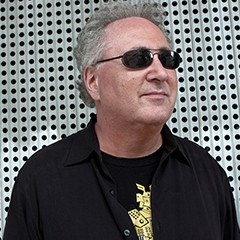 Some musicians are content to find one thing they like to do, and then to keep doing it for the rest of their career. Jason Miles is definitely not that kind of artist. Repetition is not a concept that even makes sense to him. Why stay stuck in one place when you can explore and experience something different? Moving determinedly forward has been Miles' guiding philosophy since he began playing music professionally, more than four decades ago.
As a composer, keyboardist, producer and arranger, Grammy winner Miles has brought to every new project he's undertaken a boundless sense of curiosity and adventure. No less than Roberta Flack said about him, "Jason Miles has raised the level of excellence for the musicians who have had the good fortune of working with him, myself included. He has enriched the lives of the millions of people who have listened to the music he plays, the recordings he produces and the countless musicians he mentors and inspires."
From extensive collaborations with such giants as Miles Davis, Luther Vandross, Grover Washington Jr., David Sanborn and Marcus Miller, to his own critically acclaimed recordings including To Grover With Love: Live in Japan (2016), Kind of New (2015, with trumpeter Ingrid Jensen), Global Noize (2008), What's Going On? Songs of Marvin Gaye (2006) and Miles to Miles (2005), New York native Miles has always been a restless seeker. He has shifted seamlessly between a multitude of genres, from R&B to pop to Brazilian music and even children's music and country (producing Suzy Boguss' Sweet Danger)—and, of course, several different strains of jazz, from Latin to fusion.
As an independent artist, Miles has contributed to recordings by Whitney Houston, Michael Jackson, Aretha Franklin, Chaka Khan, Michael Brecker, The Crusaders, Ruben Blades, Freddy Cole, George Benson, Joe Sample, Herb Alpert, Vanessa Williams and many others. He has performed at top festivals and venues throughout the world, including the Monterey Jazz Festival, Jazz Aspen, Umbria Jazz, North Sea, Jacksonville Jazz Fest, Cape Town Jazz Festival, Rios Das Ostras Brazil, the New Orleans Jazz and Heritage Festival and Tokyo Blue Note, AMO.
Now, with his newest release for his Kind of New Band "Black Magic" His first on theRopeaDope label he is exploring the possibilities of the small electric ensemble based on the same band of superb musicians he recently toured Europe with Reggie Washington on Bass,Gene Lake ,Drums , Jay Rodriguez ,Sax and Bass Clarinet and Philip Dizack on Trumpet. It is a combination of live tracks recorded at NewBlu in NYC and 4 new studio tracks that were influenced by a recent concert and encounter with Herbie Hancock.
Jason recently said "seeing Herbie perform just made me realize how deep you have to go to get the most from your creative soul. I re-evaluated the new music I had and realized I hadn't explored my musical soul deep enough. I locked myself in my studio and came up with 4 new tracks that I couldn't be happier with and decided to call it Black Magic..There was some other vibes going on for sure"
For Jason Miles, the insatiable hunger to embrace and appreciate all genres of music goes back to childhood. He grew up—like so many of his generation—immersed in the pop hits of the day but, by the time he reached his teens, he started to "pay attention to more serious music": Thelonious Monk, John Coltrane, Miles Davis, Wes Montgomery. "I was always musically curious and wasn't scared to buy a record that I didn't know but that looked interesting," he says.
By that time he already knew that he wanted to play music. At age 6, taken to a wedding by his parents, he was placed on a chair next to the band's drummer and cautioned not to move. At the end of the event he was siting on the drum stool thinking that playing music looks like a lot of fun. He convinced his parents to buy him an accordion and began taking lessons. Young Jason devoured the music in his father's record collection—Sinatra, jazz and the like—and soon moved on to taking lessons from Brooklyn legend Rector Bailey. Soon, Miles had a band and, at 14, was landing gigs playing organ, both locally and at the Catskill Mountains resorts of upstate New York.
For 18 years, Miles studied with a piano teacher named Lucy Greene, who drilled into his head that it was vital to find his own voice on the instrument. "I started to think that my vibe was my melodic approach," Miles says. He continued listening intently to the great jazz pianists—Bud Powell, Monk, Chick Corea, Herbie Hancock and the man who influenced him most profoundly, Bill Evans. Joe Zawinul, later of Weather Report, was another who had a major impact on the budding keyboardist. After college, in 1974, Miles returned to New York, ready to go to work. Infatuated with the new electronic keyboards—Fender Rhodes, ARP synthesizers—he began to find his place within the hyper-energized but over-packed New York scene.
"I didn't realize was how many producers wanted to use synthesizers and how many people didn't know how to use them," he says. "I started to get calls to work. The timing was right."
In 1979, Miles received his first album credit but he was still very much in apprenticeship mode. To make ends meet he worked on jingles and Japanese projects until, finally, in 1985, he was called upon to work with the Jamaica Boys, a trio featuring bassist Marcus Miller and drummer Lenny White. Miles began spending many hours in the studio, with all manner of artists. "In the 1970s thru the '90s, being on the road wasn't the top priority of musicians," he says. "Making records was. To get into that club was a long journey of trust, learning and working toward being the best you could be and understanding the dynamics of the studio."
Learning the ropes from the masters ultimately led Miles toward production work. "I got to watch and learn from some incredible producers like Tommy LiPuma, Russ Titelman, Arif Mardin, Marcus Miller, Luther Vandross and others," he notes. "Production is an acquired art that needs to be taught, observed and learned from people who know more than you do. It takes patience and a high skill set. It's the ability to tie the music and personalities together and create musical magic. The artist is the recipient of this talent. I spent 15 years in the studio before I went out on my own as a producer. It wasn't until 1999, when I produced [the multi-artist CD and DVD] Celebrating the Music of Weather Report that I got immersed into playing live and trying to penetrate into that paradigm."
Miles describes himself as a "hybrid producer and artist." He explains: "I grew up in New York City at a time when so much music—all different kinds of music—was happening. If I heard it and it had a great melody I gravitated to it. I really believe that any great musician and artist can assimilate into any kind of music. I try to blend all styles with the musicians and artists who have the same values as I have. I've never been scared to go outside my comfort zone and try new things. It's the only way you grow. When many friends were only listening to the Beatles I started exploring the blues with Paul Butterfield. Later, I embraced keyboard technology very early and it led me to bands like Kraftwerk, Yellow Magic Orchestra and Art of Noise. I keep an open mind."
That attitude has undeniably carried over into Miles' work as both sideman and leader. Due to his ability to fit snugly into any musical setting, he found himself, by the mid-'80s, in the enviable position of working with many of his heroes—most notably Miles Davis. Jason is eternally grateful for the opportunity to have collaborated with one of the 20th century's most fertile musical minds on the albums Tutu (1986), Music from Siesta (1987, with Marcus Miller) and Amandla (1989).
"I could write a book about these three three Miles albums," he says. "Tutu was my big break. Bitches Brew changed my life because I heard a form of jazz that I felt I could express myself in: the electric vibe. The Fender Rhodes was the sound and you could create your own character on that instrument. Miles wanted to learn from me as much as I wanted to learn from him. He had no idea how these instruments worked and I was a master at them and could make music and sound with them. Miles validated my life and career. He was generous and always told people about me because when he heard Tutu he heard music that he'd never heard created before and it was done by Marcus and myself."
Other regular gigs brought Jason together with several major movers and shakers of the era. Grover Washington Jr., he says, "had a sound that was so attuned to the times. He was a great melodic interpreter and superb improviser. He also showed me what being a good human being was about. He carried himself so well around everybody and fit into the music like a glove." Luther Vandross "was a vocal genius and I learned about producing vocals from him. He was generous and respected your talents. He was very funny and showed me how to do a show in front of 20,000 people." On Marcus Miller: "We clicked in the studio and I was able to channel his creativity and ideas into soundscapes that added a great character to the music. We were lethal in the room."
Miles also added his touch to recordings by some of the biggest names in the business: Michael Jackson, Whitney Houston, Aretha Franklin, George Benson and dozens more. "What I learned was that crafting pop music isn't as easy as it looks," he says. "Each song has to be meticulously put together so it works great with the vocals. It takes time and patience to find that perfection that puts a smile on people's faces."
Of course, Miles' own recordings as a leader, and the countless live dates he's led, have done more than anything else to showcase the breadth of his talent and his visionary outlook. "I have managed to get my recordings released because the quality I bring to the table is undeniable," he says. "In the end it has been up to me to make it all happen."
For nearly four decades now, Jason Miles has been conceiving and executing diverse releases that bring together all of his gifts as musician, producer, arranger, bandleader and collaborator. Early albums like Cozmopolitan, World Tour and Mr. X served as fitting introductions but before long Miles was getting antsy to branch out into more challenging forms. In addition to his tributes to Miles Davis, Weather Report, Grover Washington Jr. and Marvin Gaye, two Brazilian-themed recordings displayed Miles' affinity for that timeless genre: A Love Affair: The Music of Ivan Lins (2000) and Brazilian Nights (2002). The former won a Best Male Pop Vocal Performance Grammy, for Sting's performance of "She Walks This Earth," and also garnered a nomination in the Best Pop Instrumental Performance category for "Camaleao," which featured Grover Washington Jr. On the latter album, Miles utilized the virtuoso musicianship of Gato Barbieri, Michael Brecker, Herbie Mann and others. In addition to the initial 2001 Washington tribute, he's released a second studio homage, 2 Grover With Love and, more recently, To Grover With Love: Live in Japan.
In the 2000s, Miles has veered into a new series title Global Noize. As of now there have been three releases: Global Noize (2008), Global Noize: A Prayer for the Planet (2011) and Global Noize—Sly Reimagined (2013). "I came up with the idea for Global Noize in 2008 after a late-night jam session at the Blue Note," he says. "This project is big goal of mine: to merge funk, grooves and world music with great melodies and superb musicianship and production. We have three albums down now and I put the project aside for a couple of years but many friends encouraged me not to give up on the project so I am making a new Global Noize album called Plugged Into the Universe. The album is dedicated to the late Bernie Worrell."
Miles sees Kind of New- Black Magic as a sequel of sorts to his 2017 album Blue is Paris and his 2015 collaboration with trumpeter Jensen. That album received glowing reviews, with JazzTimes stating, "This is music crafted in the spirit of late Miles Davis, but it's very much of its own time…Kind of New is kind of now," and Something Else Reviews called the music a "refreshing reconnect with the innovations [Miles Davis] introduced some 45 years ago."
While Miles is indebted to and appreciative of the roots of the music he chooses to play, he reiterates that it's all done in the service of pointing it toward the future. "People many times ask me, 'Why are you so driven?' You've done great things and worked with amazing people, Just kick back.' I say it doesn't work like that. You get better as you get older and have even more of a desire to make great music. It's getting the opportunity to do it that that is now the challenge. I believe in myself and know that I am so much better now musically than I've ever been and I am still curious about what lies ahead. I will keep doing that."