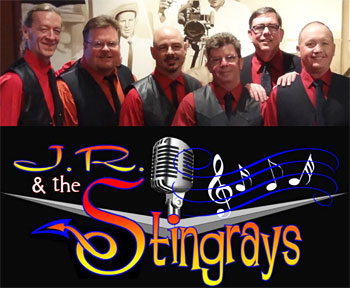 J.R. & the Stingrays is a Boise based oldies show band, originally established in 1985. The Stingrays perform a Sha-Na-Na style oldies show with vintage flair reminiscent of the American Graffiti era, covering tunes from Bill Haley & the Comets, The Drifters, Beatles, Elvis, all the way up to BTO and ZZ Top. The Stingrays are best known for their oldies Rock-n-Roll and Doo-Wop style emulating the great harmony bands of the sock-hop era.
Their retro music style crosses over virtually every age group and our loyal following includes rock fans and country fans alike. Before you know it, you've gotta get up and dance! In 1999 they shared the stage with Paul Revere and The Raiders to bring in the new millennium in front of nearly 1,400! In addition to Paul and the band, they've shared the stage as an opening act, or as the backup band, to some of the greats, such as Sha Na Na, Peter Noone, Gary Lewis & The Playboys, 3 Dog Night, Gene Chandler, Chubby Checker, The Box Tops, The Tokens and many more.
J.R. & the Stingrays didn't perform for almost 5 years starting in about 2002 because J.R. and Mike were serving in Iraq, and combined had done multiple tours of duty. They made a pact that if they weren't together, the band wouldn't play. They came home safe and glad to be back in the music saddle again! While the two were serving our country, Jim was holding things together in Boise. Making plans for the band, getting new songs ready to learn, new venues to play, being the strength behind the scenes, waiting for his band mates to safely return home. There's more to Idaho than just potatoes, there is J.R. & the Stingrays.
Go ahead and load up at the buffet because the band is going to give you a dance workout to help you lose those extra pounds!
Dust Off Your Saddle Shoes and get ready to kick it old school!!