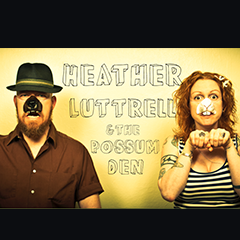 Heather Luttrell and the Possumden have been peddlin' their whiskey-soaked traveling show of Blues and Americana up and down the East Coast tirelessly for the past 10 years, gaining fans, notoriety and a few speeding tickets. With four part harmonies, acoustic guitar, resonator, bass, banjo, drums and kazoo, the band brings a big sound, often surprising venues and fans with the large powerful voice that comes tearing out of Heather's wiry tattooed frame like a freight train. The witty lyrics of a story teller and the voice of a gospel queen gained Heather the nickname Possumdiva. While Heather was laid up with a hurt back in 2014, she decided to learn the banjo — her latest CD, Boatpaddle, is the result. Sharing stages with everyone from Lynyrd Skynyrd to Ani Difranco, playing dive bars and concert halls, Heather Luttrell and the Possumden are coming to a town near you, so grab a glass and pour yourself a strong one. Sit back and enjoy the show.
"Moonshine music at it's finest" 
– Phil Kloer Atlanta Journal
"From the front porch to the front of the stage… Raw yet refined… Honest
and Seductive with no apologies… The music of a free spirit" – CDBABY
"Blending sounds and styles ranging from rock, country, blues soul and even a tinge of gospel Heather Luttrell has songs of failed love and life's successes. Lyrically she has penned some clever lines that might make you laugh as well as break your heart" – Jeff Wiley Amazon
"Don't let the tattooed roughness of Heather Luttrell fool you, her soulful voice of gold is the perfect compliment to her funky blues style, cramming 300lbs of soul into her 105lb body!" Atlanta Music Magazine
She has shared stage with Lyle Lovett, Patty Griffin, Darrell Scott, Buddy Miller,The Indigo Girls, Lynyrd Skynyrd, The Marshall Tucker Band, The GA Satellites, The Zac Brown Band, Dave Mason, Johnette Napolitano, Shawn Mullins, Alana Davis, Tift Merrit, Jakob Dylan, Over the Rhine, Angie Aparo, Amos Lee, Ryan Adams, Elton John, The Jon Butler Trio, Delbert McClinton, Richard Thompson, Brandi Carlille, Bain Mattox, Melissa Ferrick, John Hiatt, and Louden Wainwright.