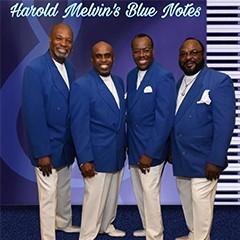 Harold Melvin and The Blue Notes were a charismatic Philly band whose roots date back to long before a leap into stardom during the 1970's. Behind lead singer Melvin, and the immensely popular Teddy Pendergrass, the group enjoyed tremendous success.
Harold Melvin and The Blue Notes were formed by Melvin in Philadelphia in 1954, and not surprisingly they would endure a long road before reaching national stardom. The originally featured Melvin, Donald Broody and Bernard Williams, signed with the small NY based Josie Records in 1954. In 1960 under the Valley Vue label, they went onto record their first hit to reach the R&B charts with the single My Hero.
In 1970, it was the addition of Pendergrass as their drummer that set off a series of pivotal events that led to the groups jump into national prominence. In 1972, the group collaborated with producers/songwriters Leon Huff and Kenny Gamble and signed with their Philadelphia International label.
Harold Melvin and The Blue Notes reeled off a series of hits that included If You Don't Know me By Now, The Love I Lost, Where Are All My Friends, Bad Luck and Wake Up Everybody.
Unfortunately the man most responsible for their success Harold Melvin, died in 1997 but his spirit and legacy lives on, as the group which now consists of Donnell Gillespie, Rufus Thorn, Anthony Brooks, and John Morris. With the new singers and to pay homage to Mr. Melvin, the group name was changed to Harold Melvin's Blue Notes. The Blue Notes continue to tour and dazzle crowds with the same array of groovy rhythms and soulful ballads singing the songs that you love to hear.