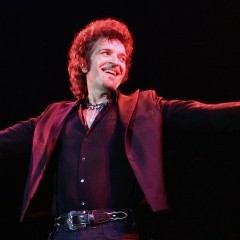 Since his debut release of Crazy Life, in 1973, Gino Vannelli has remained one of the most distinctive voices in contemporary music. His voice is as memorable as his hair, as he has been dubbed, "The Canadian singer songwriter with a lion's mane." But Vannelli's evolving music has kept his fan base growing for over 40 years. From rock, to jazz, to soul, even classical, this singer/songwriter/producer has left no musical stone unturned. With an amazing 19 albums under his belt, most hitting the Billboard charts—his latest release being 'Live in LA', a concert shot at the Saban Theater in Beverly Hills, California, hitting number one on Amazon. Vannelli is a living legend, and his live shows should be seen to be believed. Some things get better with age and Vannelli is living embodiment of that sentiment. He will be releasing his 20th album in 2018, a brand new collection of recently written songs on his acoustic guitar. Whether performing piano-voice concerts in theaters, singing before symphony orchestras in concert halls, big bands or a pop ensemble, to throngs of enthusiastic fans, Vannelli remains impassioned and true to his art as ever. His standing as a powerful and innovative live performer, his well-hewn musical skills as composer, poet, producer, arranger, and bandleader, keep his career rising to greater heights.
Some quick highlights:
20 millions records sold worldwide
First Caucasian artist to perform on Soul train
Performed live with Stevie Wonder
Performed for the late Pope John Paul
Continues to perform world wide, including Mexico,
many countries in South America, Asia, South Africa and Europe.