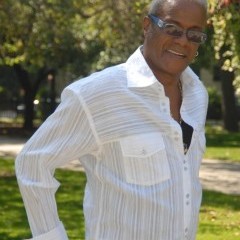 Chicago's Music Man George Daniels
In a century where corporate music giants undercut, betray and scramble for their piece of the pie, music retailer George Daniels quietly observes the bloodbath from the sidelines. As the founder and proprietor of George's Music Room, arguably the most influential independent music retailer in the country, George has infiltrated the industry using one simple, six letter word: Family.
Appearing in numerous music videos and movies, hosting countless conferences, parties and award shows and even being featured in several fashion campaigns, George Daniels is much more than a wildly successful merchant. He is a philanthropist, visionary, father-figure and confidant to artists like Sean Combs and Snoop Dogg who affectionately refer to him as "Uncle George" and "The Music Man". Where George goes his reputation precedes him, even overseas where a panel of South African judges named him "Mamadou", or 'The Messenger'.
This title is only appropriate for a man who has spent his life spreading messages of empowerment, honesty and loyalty, all qualities Daniel's understood growing up in New York City and watching his family own and operate southern style restaurants. It was there that Daniels first rubbed shoulders with music legends like Oscar Peterson and Miles Davis who would come in to eat, using their small royalty checks to pay. Crisp New York evenings were often spent with his father, who would tell him about nightclubs like Lennox Lounge and Three Deuces that he was too young to attend.
Immersed in gorgeous skylines and a rich musical heritage, Daniels' decision to attend Loop College in Chicago couldn't have been timelier. It was in Chicago that George fell desperately in love with music and earned his stripes as an intern at Chess Records- where he was a janitor, driver and even provided elementary background noise for recordings. Likening the experience to "running away to join the circus", Daniels was overjoyed to be exposed to artists such as Billy Stewart, Etta James, Muddy Waters and Ramsey Lewis. His subsequent position at One Stop Records gave Daniels the fundamental retail, stocking and customer service skills he needed to start running the show.
On December 12, 1969, just shy of Daniels' 21st birthday, George's Music Room opened for business on Chicago's West Side. The original establishment has since become a musical mecca for major and independent artists including Kanye West, Common, R. Kelly and Usher.
But more importantly, George's Music Room is regarded as an anchor and symbol of longevity, fortitude and family in Lawndale, a community known for economic depression. And fortunately for Lawndale, George looks out for his family. His efforts were even recognized by Chicago Mayor Richard M. Daley, who personally commissioned Daniels to open a second location at Midway Airport on the city's Southwest side.
In 2008, Daniels continues to separate himself from the herd, insisting that he is recognized as a 'merchant' rather than businessman. It is this sense of self that prompted Daniels recent trip to Haiti where he supported Wyclef Jean's charitable organization Yele Haiti. "Merchants help the community. Merchants know how to work with people, to build relationships in hopes of really understanding what it is that customers want and then delivering it," he explains. A recipient of an NAACP image award, Daniels philosophy has not gone unnoticed.
Savvy after 40 years in business, Daniels remains far from naïve about the turbulent music industry. His understanding and strong desire to work with consumers are reasons why he will soon be transitioning into digital music sales. And while this attitude has brought him business and countless awards, Daniels lists the National Association of Recording Merchandisers "Retailer of the Year" award as one of his most cherished honors.
"The pride and sense of accomplishment I felt upon learning I would be the first African-American recipient was overwhelming," he recalls.
Personable, warm and ever dapper, George Daniels is the uncle we all wish we had. Those who have had the privilege of spending time with Daniels cite him as an excellent tour guide whose overwhelming sense of Chicago pride is contagious. So next time you see him, don't hesitate to say hello. He might just take you out on the town with the family.