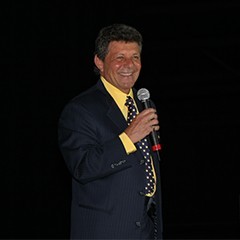 One of America's most popular entertainers, Frankie Avalon went from 50's teen idol to a national and international star.
Born in Philadelphia, Frankie had his early trumpet playing career end abrutly when a family friend Bob Marcucci heard him sing and signed him to a recording contract. His first song " De De Dinah" became a smash hit and his recording of" Venus " was one of the biggest selling hits of the era. He had many follow up hits such as" Bobbysocks to stockings,"" Gingerbread,"" Just Ask Your Heart,"" A Boy Without A Girl." He is also credited with having the last number one record of the 50's with" Why" reaching that status in December 1959.
In addition to his popularity as a top recording artist, Frankie became a motion picture star, appearing in over 30 movies, starring with such luminaries as Alan Ladd in" Guns Of Timberland," John Wayne in" The Alamo." Other film credits include" Voyage To The Bottom Of The Sea," the hit musical" Grease." His biggest popularity in movies came when he starred in the classic Beach movies…" Beach Party, " "Muscle Beach Party," " Beach Blanket Bingo," "Bikini Beach" among others.
A highly popular attraction on the concert circuit throughout the world, he has appeared in every major country and his appearance at the International Festival Of Stars in Romania marked the second time that an entertainer from the United States has performed in that Iron Curtain country since World War II, the other being Louis Armstrong. In addition to his solo performances, in 1985 Frankie began touring with two neighborhood friends Fabian and Bobby Rydell in a show entitled "The Golden Boys." That show is now in its 13th year of touring, doing over 400 hundred shows. The Golden boys have appeared on many major television specials such as" The American Music Awards," the closing ceremonies of the" Miss Liberty Special," (which was seen by over 200 million people) and the ABC Inaugural special," Command Performance: An All-Star Salute To The President."
In 1987, Frankie reunited with his co-star in the original beach movies, Annette in the summer movie hit" Back To The Beach." Frankie can also be seen regularly on the Home Shopping Network on behalf of his company, Avalon Products.
Apart from his busy work schedule, Frankie is an avid golfer and lives in Los Angeles with his wife Kay, who he married in 1963, and their eight children.