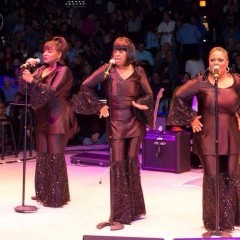 First Choice is an American vocal female group from Philadelphia, Pa. While attending Overbrook high school the group was a quartet and named themselves "The Debonettes". They ended up being a trio shortly after signing with Philly Groove Records and became "The First Choice".
Philadelphia radio personality Georgie Woods introduced the trio to Philly producer/songwriter Norman Harris, who produced the First Choice debut single "This Is the House Where Love Died". Their next single "Armed and Extremely Dangerous" was released in 1973, and was their first big hit going to the top of the Billboard R&B charts. It was also a top 10 U.K hit. With their Philly Groove smash "Armed and Extremely Dangerous", The First Choice hits kept coming; "Smarty Pants", "The Player", "Newsy Neighbors", "Let No Man Put Asunder" and "Dr. Love". They were voted "Top Female Singles group" by Record World in 1973 and 1974.
The Player, the group's second album was issued in the fall of 1974 and was their highest-charting record reaching 20 on the R&B charts. After the group switched to Warner Brothers Records they charted with, Gotta Get Away", "Let Him Go", and "So Let Us Entertain You. In the fall of 1977 The First Choice released the ultra-catchy disco classic "Doctor Love" on Salsoul Records. The Delusions/Doctor Love Album followed filled with the later singles, "Smarty Pants", "Love Thang", and "Let No Man Put Asunder.
The group's album cut "Let No Man Put Asunder" rose to #5 on the Billboard dance charts and became a staple for urban DJs and a classic for listeners. The timelessness of the cut was brought more to the fore when Mary J. Blige did a cover of the song on her 1999 album Mary.
After a long break on August 6, 2014 First Choice performed at the Salsoul Records reunion concert at the East River Park Amphitheatre in New York with members; Rochelle Fleming, Annette Guest, Wardell Piper, and Ursula Herring. They still have the ability and talent to inspire and connect with any audience with their classy smooth and electrifying stage show. The First Choice is back and better than ever. They continue to tour with members Annette Guest, Ursula Herring and Andre A. Jackson.