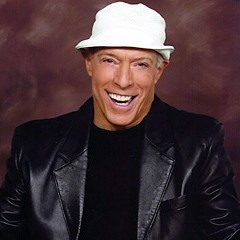 "The last bastion of doo-wop culture in a McDonald's world." These words were written about Philadelphia, but they apply equally to Philadelphia's legendary radio personality JERRY BLAVAT — The "Geator with the Heater," the "Boss with the Hot Sauce." The unique DJ is still going strong and now as much a Philadelphia institution as a cheesesteak or the Academy of Music.
It all began when he was just 13 years of age and quite by accident saw a TV show, Bob Horn's Bandstand. Jerry's uncle was in a singing group and it was mandatory for the family to watch Bandstand whenever he appeared on the show. From the moment Jerry Blavat first watched the show, he knew that's what he wanted to do – he wanted to dance, and indeed he did on Bandstand, winning contest after contest. Even today the Geator still dances at all of his appearances.
Throughout his entire show business life Dick Clark was always a fan, as well as a friend, and would talk about how Jerry Blavat went on to become one of the biggest disc jockeys in the country. As a matter of fact, Dick Clark wrote the foreword to Jerry's autobiography, You Only Rock Once, which has become a best seller.
During a career spanning nearly five decades, Blavat has done it all. He's been a dancer, a record producer, and nightclub owner. He's launched television shows, including the nationally syndicated Discophonic Scene from 1965-67, made guest appearances in movies, and was inducted in the Rock and Roll Hall of Fame. And what drives him first and foremost is his passion for music and the listeners he's always put first.
To try and describe Jerry Blavat would be impossible without seeing him in person or listening to him on the air. Decades after other stations shackled their DJs to a limited playlist and a tight, canned format, Blavat plays what sounds good to him from the Geator Gold vault of classic doo-wop, a cappella, Motown and Philadelphia-area dance hits of the '50s, '60s and '70s, interspersed with his encyclopedic knowledge of the music, its writers and producers, and the performers. What holds it all together is the unique on-air personality of the man himself. Now in his 56th year on radio, Jerry Blavat long ago transcended the medium. Describing him as a "radio DJ" is like describing Abraham Lincoln as a politician from Illinois. Today he's a true cultural icon of the City of Brotherly Love, as recognizable a symbol as Independence Hall or the Liberty Bell. In Philadelphia, everyone smiles when they hear the Geator.