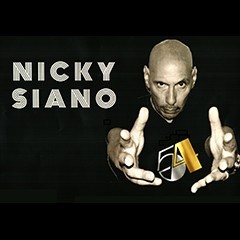 Nicky Siano is a TRUE pioneer of the dance music scene, his first job playing records at New York's famed club THE ROUND TABLE, was in 1971. In 1972, at the age of 17, he co-owned, designed and was the DJ at THE GALLERY, called THE FIRST DISCO in books ie. 'Love Saves the Day' and 'Love Goes to Buildings on Fire.' Both books and documentaries such as MAESTRO chronicle how Nickystarted many DJ techniques like BEAT MATCHING RECORDS, designing the first CROSSOVER and building the first club BASS HORNS. He inspired owners to build such clubs as The Paradise Garage and Studio 54. He launched the careers of Grace Jones, D.C. La Rue, Loleatta Holloway, Larry Levan and Frankie Knuckles, to name a few. His party at TWELVE WEST, 1999-2002, was heralded by New York Magazine, The Village Voice, Time Out, Hx, Next, Flyer, DJ Times and Paper Magazine as the party of the year. Of the early, most influential DJ's in New York, Nicky is the last survivor of that time.
Nicky has written and stars in the new show HALLELUJAH DISCO: Stonewall to Studio 54 he tells the story of the STONEWALL RIOTS in New York City and the first PRIDE celebration. He recounts how, in the ashes of Stonewall, he and approximately 10 other DJ's built the New York City club scene, how openned what many call "the first disco" THE GALLERY, where he launched the careers of Grace Jones, Loleatta Holloway, Larry Levan and Frankie Knukles. Songs from the era are performed by an eight piece gospel choir. He recounts his relationship with STEVE RUBELL and how he become the very first DJ to play at STUDIO 54.
Nicky has mixed and recorded over 30 dance classics. In 1977 he was the FIRST DJ to produce a record– the underground classic "Kiss Me Again" on Sire Records, for which he became partners with famed musician Arthur Russell, and sold more than 300,000 copies. It was no coincidence that when Steve Rubelle opened Studio 54 he chose Nicky as one of the two original DJ's, he is the last surviving ORIGINAL DJ from the legendary club. IN OCTOBER OF 2011, SiriusXM re-opened the original STUDIO 54, with all the original people, FOR ONE NIGHT ONLY. Nicky was chosen by IAN SCHRAGER to be at the decks for this evening. This event was featured on Entertainment tonight, and in PEOPLE magazine October 2011.