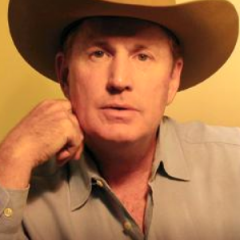 David Ball and The Pioneer Playboys have been touring in support the latest CD Sparkle City, which includes the single "Hot Water Pipe" and the upcoming "What'll I Do If I Don't Have You." David Ball is not resting on his legendary success. He and The Pioneer Playboys are touring as actively as ever, playing more dates than most contemporary hit-makers. Sparkle City is vintage David Ball. It's simple and sophisticated; jazzy, swingy, bluesy with a touch of TexMex and a little Latin flavor. His songs don't fit the kind of template demanded by hit radio. The man is a true independent. He writes from the heart and the beat is in the sincerity of every word.
You think you know David Ball … but the artist and the man run far deeper than the moments he has spent in the media spotlight. His contemporaries are not the usual suspects from Top 40 radio. Ball's spirit and music are more closely aligned with troubadours like Dwight Yoakam, Lyle Lovett and Guy Clark. Yes, there have been the hits. Fourteen of his singles have entered the Billboard charts, including "Thinkin' Problem" and "Riding With Private Malone," which made Ball one of the first artists to take an indie single to the Country Top 5. He has recorded a total of seven studio albums on different labels, including his platinum certified Thinkin' Problem. David grew up in Spartanburg, SC where he learned to play guitar but later honed his skills on the upright bass, which led to a gig playing bass in Uncle Walt's Band, credited as the first Americana act.
The legendary trio was headed by Walter Hyatt and also included Champ Hood. A solo career led Ball to Nashville where he signed a publishing deal and later, a recording contract. David's music came full circle when Lyle Lovett reached back into Uncle Walt's Band repertoire to include one of David's early songs, "Don't You Think I Feel It Too" on his 2009 disc, Natural Forces. David won a Grammy Award for the song "Old Folks At Home (Swanee River)" from the album Beautiful Dreamer – The Songs of Stephen Foster. (2005) Bob Dylan invited him to join artists like Jerry Garcia, Bono, and Willie Nelson on The Songs of Jimmie Rodgers: A Tribute (1997). Later that same year, David joined Bruce Springsteen as they performed at the Kennedy Center Honors Reception, celebrating Dylan's impact on American music. With the release of the single "What'll I Do If I Don't Have You" David will honor the military by teaming up with the charitable organization, Operation Troop Aid. The 501c3 sends care packages to deployed US troops. A portion of sales will benefit OTA, and David currently appears in a national TV campaign in support of the organization.