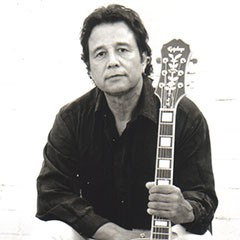 Chris Montez, born in Los Angeles, grew up in the middle class area of Hawthorne influenced by his Hispanic culture and the rock 'n roll success of Ritchie Valens. Music was an integral part of his family life and Chris began singing rancheras with his older brothers when he was a kid. They taught him to play the guitar and he sang the high parts. In his junior year at Hawthorne High ignited by the spark of musical ambition, Chris formed a band and recorded his own original songs that gained the interest of Monogram Records. "All You Had To Do Was Tell Me" became a local hit.
Chris' single, "Let's Dance," hit the top l0 and he was on his way. In 1963, he toured the UK with Tommy Roe, his opening act was a new English group, The Beatles! In l965, with 3 years on the road behind him, Chris came home to complete his education and join a new label, A & M. Herb Alpert dropped in on one of Chris' first sessions and suggested that he try a soft ballad sound. It was a more conservative style than Chris would have preferred, but Alpert's instincts were good and the hits "The More I See You," "There Will Never Be Another You," "Call Me" and "Time After Time" followed in quick succession.
While the British and psychedelic rock were invading the U.S., Chris left A & M, signed with CBS International and amassed a string of hits outside the U.S. that has firmly established him as an international recording star. He has recorded songs in both English and in Spanish that have become hits in such countries as Japan, Austria, Germany, Holland, France, Mexico and the U.S.
Through the years, in between tours to the Britain and South America, Chris has continued to grow as an artist and to concentrate on his own compositions. His confidence in his music gives him the freedom to integrate the unique influence of his Hispanic culture and rich rhythm and blues style into his own personal hit making musical interpretations.
He tours internationally and recently starred in "The Original Stars of American Bandstand" at the new Dick Clark's American Bandstand Theatre in Branson, MO.
Frozen Pictures recently produced a documentary feature film, "El Viaje Musical de Ezekiel Montanez" ("The Chris Montez Story").
He lives in Simi Valley, California with his wife, Chaz, a prominent local D.J. and their daughter, Ryan.