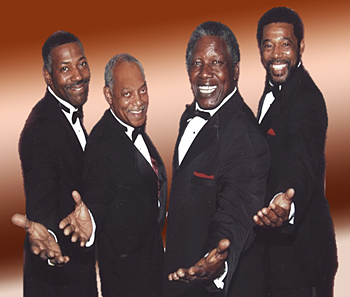 The Drifters are a long-lasting American Doo Wop and R&B / Soul Vocal Group. They were originally formed to serve as a backing group for Clyde McPhatter (of Billy Ward & the Dominoes) in 1953.
According to Rolling Stone Magazine, The Drifters were the least stable of the great vocal groups, as they were low-paid musicians hired by George Treadwell, who owned The Drifters name. There have been 60 vocalists in the history of the Treadwell Drifters line,including several splinter groups by former Drifters members (not under Treadwell's management). These groups are usually identified with a possessive credit such as "Bill Pinkney's Original Drifters", "Charlie Thomas' Drifters", etc.
According to The Vocal Group Hall Of Fame: "Through turmoil and changes, The "Original" Drifters managed to set musical trends and give the public 13 chart hits, most of which are legendary recordings today." Matching that feat, subsequent formations of The Drifters managed to give the public 13 Billboard Hot 100 top 30 chart hits.
With over 50 million records sold and 20 Top 40 hits, including:
Save The Last Dance For Me
There Goes My Baby
Under The Boardwalk
On Broadway
Up On The Roof
This Magic Moment
I Count The Tears
Some Kind Of Wonderful
Please Stay
Sweets For My Sweets
Website: www.cthomasdrifters.com