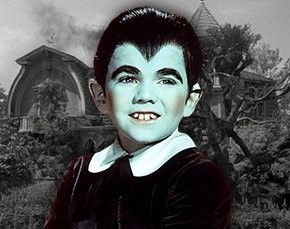 The ring he wears on his finger has a large diamond studded "PL" shining boldly. Given to him by his father when Butch had a kidney removed, it signifies his real name, Patrick Lilley.
Butch was born on August 2, 1953 in Los Angeles California. He made his acting debut in 1961 at the age of eight opposite Eddie Albert in the film "The Two Bears". While living in Illinois with his grandmother, Butch was flown to Los Angeles to test for the role of Eddie Munster at CBS Studios. "I went in and an hour later I came out with the job" he recalls. Although a cute little kid, he could play brat parts easily.
Aside from acting, an underlying interest throughout his life has been baseball. His step dad incidentally is Ken Hunt who played for the Yankees and the Washington Senators briefly.
Besides his two year stint as a wolf boy with pointed ears, he was a regular on TV's "The Real McCoys", "General Hospital" and "My Three Sons". In between he appeared in numerous commercials and guest spots on many situation comedies throughout the sixties.
In 1971 Butch starred in the Saturday morning kid's series, "Lidsville" opposite Charles Nelson Reilly. The show lasted until 1973 and zoomed Patrick into the teen-idol phase of his career with his face gleaming on the covers of several teen magazines in the early 1970s.
After that, little was heard from Butch Patrick. He quit show business "to grow up" he says, "because my first twenty years were spent working in an adult world. I made up for it by being a hell raiser for the next ten years". Soon after, the money ran short and Butch was working odd jobs around the country. He even formed his own band, "Eddie and the Monsters" and put out a single, "Whatever Happened to Eddie?" which brought him some notoriety because of his role in the Munsters. It was because of that single in 1983 that MTV created the `Basement Tapes' which gave exposure to unsigned bands.
Patrick doesn't mind talking about being Eddie Munster anymore, but at one time he was bothered by it. He even boasts that he has saved the original Woof- Woof doll after all these years. Around Halloween Patrick is usually booked solid for events that toast the Munsters and proudly welcome little Eddie, now all grown up.
Although Butch lives in St. Pete Beach, Florida he is constantly on the go and often off to Hollywood and then Los Angeles, where his immediate family remains.