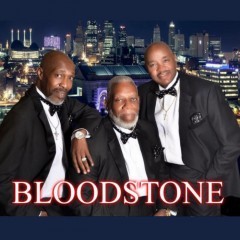 Formed in 1962, Kansas City's "BLOODSTONE" remains one of the soul music scene's brightest and longest-burning light. BLOODSTONE has been together for more than four decades, all the while performing with some of R&B and Pop music's most renowned and revered artists.
Wowing the local scene as "The Sinceres" (a self contained vocal/instrumental group), band founders Harry Williams, Charles McCormick, Charles Love, Willis Draffen, Roger Durham, Melvin Webb, Hense Powell and Kenneth Smith took their unique sound to stages across their native Kansas City, crossing racial boundaries and working to establish harmony both on and off stage. The band honed its skills and crafted what became the distinctive BLOODSTONE sound before striking out for London, England, in 1972.
After so many years of success, traveling all over the country performing such hits as "Natural High," "Never Let You Go," "Outside Woman," "That's Not How It Goes," "My Little Lady," "Give Me Your Heart," "Do You Wanna Do A Thing," "Just Like In The Movies," "Go On And Cry," "My Love Grows Stronger," "Instant Love," and in 1984, their last big hit "We Go A Long Way Back," God called home to rest, Roger Durham, Melvin Webb, Willis Draffen, Kenneth Smith and lastly Charles Love, who became the anchor of the group from 2002 to March 2014.
In 1975, the group starred in the hilarious movie "Train Ride to Hollywood" where they wrote the entire movie sound track. You can hear the sound track by going to Bloodstone1.com.Their 1st album entitled Bloodstone, had two London releases. Upon returning to the United States, they released their 2nd album entitled "Natural High" in August 1973. The single "Natural High" sold over one million copies and ultimately went Gold, then Platinum.
BLOODSTONE continues to tour and perform to this day with original members Harry Williams, Charles McCormick, Musical Director, Hense Powell, and 16 year veteran Donald Brown. They are still bringing down the house, taking the show, and receiving standing ovations at every performance. They have proven to the world that they are unquestionably quintessential entertainers. They are truly consummate professionals possessing the skills and temperament to successfully face any challenge with vim and vigor.
They exemplify the true meaning of pride in every facet of their personal and professional lives. BLOODSTONE will continue to expand themselves ceaselessly as Kansas City's musical gift to the world. Their exemplary career has stood the test of time and their musical legacy is one that will continue to flourish for as long as there is a song to sing! BLOODSTONE'S newest CD is entitled "FLY AWAY." With songs like "Possible", the title track "Fly Away", "Forever More", "Getting' Even Wit Cha", "Theater Love", and "Spread Some Love", written to get the message out to the world to simply stop the violence and spread some love. This CD is a true work of art, on its' way to top the music charts once again. "Fly Away" is now available on CD Baby, Amazon.Com and ITunes.