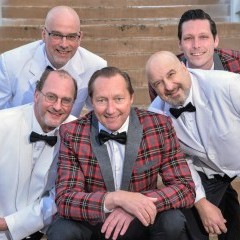 Bill Haley has been called the Father of Rock and Roll and Rock 'n' Roll's First Star. "We premiered it," he told Rolling Stone in 1967. "We put country & western together with rhythm & blues, and that was rock. The first three years were ours, all ours, till [Elvis] Presley came along."
A country artist in the early days of his career, Haley began tinkering with sounds in the early 1950s, mixing country and R&B together for "Crazy, Man, Crazy." The song debuted on Billboard magazine's pop chart and became the first Rock 'n' Roll track to be played on television, heard during a James Dean show in 1953.  And then came "Rock Around the Clock." A #1 hit in the US and the UK, "Rock Around the Clock" propelled the new Rock 'n' Roll sound into the mainstream and shaped the sound of pop music in ways that are still heard to this day.  "Before it became a hit in summer 1955 – more than a year after it was recorded – Rock 'n' Roll was virtually an underground movement, something kids listened to on the sly," wrote journalist Alex Frazer-Harrison. "This changed after 'Rock Around the Clock.' The music was everywhere!"
The song remained popular through the decades that followed, setting the tone for films like "American Graffiti" and the television series "Happy Days" and receiving a Grammy Hall of Fame Award in 1982.
But Bill Haley & His Comets weren't done. Shortly after the release of "Rock Around The Clock," the group recorded another smash, "Shake, Rattle and Roll," a Top 10 hit that spent half the year in the Top 40 charts. More Top 50 hits, including "Dim, Dim the Lights, (I Want Some Atmosphere)", "Birth of the Boogie" and "Mambo Rock" followed, along with "See You Later, Alligator," "Don't Knock the Rock," "Rock-a-Beatin' Boogie," "Rudy's Rock," and "Skinny Minnie."
In 1987, the Rock and Roll Hall of Fame inducted Bill Haley's, commemorating his legacy and influential works.
In recent years, Bill's son formed Bill Haley Jr. and The Comets to pay tribute to the works of his famous father and carry on the tradition he started. The high-energy five-piece combo performs a rousing, crowd-pleasing set of songs first recorded at the dawn of Rock 'n' Roll by Bill Haley Sr and other popular tunes from the 1950s and 60s. Emphasizing authenticity in sound and presentation, this "Rock 'n' Roll history show" features Bill Haley Jr sharing inside stories and historical context behind the songs he sings backed by his talented band of Comets. Their concerts re-create the music, the feel, the excitement, the authentic stage costumes and the energy of Rock 'n' Roll's heyday.