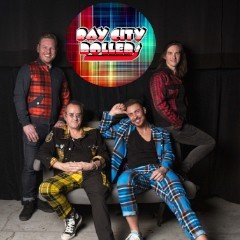 "Is it hype? Is it hope?" asked the ever-objective Howard Cosell, "Or is it a bicentennial gift from the old country?" These were the questions posed to America on the historic night of Saturday, September 20, 1975. The occasion was the premier of ABC-TV's SATURDAY NIGHT LIVE WITH HOWARD COSELL. The subject was the Bay City Rollers.
Performing live via satellite from London, America was witness to the unforgettable spectacle of complete shrieking, fainting, Roller-induced hysteria. Hype or hope, it was a most effective introduction.
Within a week, the Rollers were in America. Arriving at New York City's Kennedy Airport, their plane was met by national press, television cameras and hundreds of screaming, plaid-clad American teens. The Rollers performed their new single SATURDAY NIGHT live on Cosell's second episode. By the next week, it was the #1 record in the nation. Over the next 18 months, the Rollers would chart five more tunes in the American Top 40 (THE WAY I FEEL TONIGHT, ROCK 'N ROLL LOVE LETTER, YOU MADE ME BELIEVE IN MAGIC, MONEY HONEY and I ONLY WANT TO BE WITH YOU).
The Rollers saga began in 1967 in Edinburgh, Scotland. As The Saxons, the quintet limped along in relative obscurity for three years before deciding to change their name and image. As pop history tells it, the lads stuck a pin in a United States map and hit Bay City, Michigan. With the addition of 'Rollers' (the British term for "soft rockers") and a new wardrobe, the Bay City Rollers were born. A succession of Top 10 UK hits quickly followed.
While accusations of hype rage, the physical evidence was irrefutable: concert riots, hotels under siege, mass teen faintings, etc. Additionally, this teenybopper havoc had a look all its own – tartan. Like their idols, tartan-trimmed trousers and suspenders and plaid scarves and shirts became required wardrobe for devoted Rollers fans. "What could girls do to identify with the Osmonds?" admitted one British teen magazine, "Dress up like Mormons?" By 1974, the phenomena known as "Rollermania" had conquered Britain and most of Europe.
America's case of Rollermania lasted until 1977, over the course of five RIAA Gold albums (BAY CITY ROLLERS, ROCK 'N ROLL LOVE LETTER, DEDICATION, IT'S A GAME and GREATEST HITS). Now, some decades later, it's possible to look beyond the hype and hysteria and hear the Rollers' true legacy. The Bay City Rollers created some of the most enjoyable and enduring pop music of the 1970s.