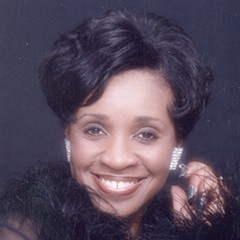 Singer Anita Ward is most well-known for her 1979 disco single "Ring My Bell," a number one pop hit in the U.S. and the U.K.
Born on December 20, 1957 in Memphis, Tennessee, Ward developed an interest in music — particularly gospel — at an early age. She went on to sing with the Rust College A Cappella Choir (which included recording alongside renowned Metropolitan Opera vocalist Leontyne Price), and recorded an obscure album with her own gospel quartet. After graduation, however, Ward didn't set out to pursue a career in music and instead became a substitute teacher in the Memphis elementary school system. It wasn't long before Ward realized music was too much a part of her life to ignore, and her manager put her in contact with singer/songwriter Frederick Knight (who had scored a substantial hit in the summer of 1972 with "I've Been Lonely for So Long"). Knight signed on to help produce a three-song demo session with Ward, but once the tape was rolling, Knight became so taken by Ward's singing ability that the sessions soon produced an album's worth of material.
Songs of Love After listening to what they'd recorded, both agreed that they were still one song short, which resulted in Knight digging up an old track titled "Ring My Bell," which he had originally penned for a younger singer, Stacy Lattisaw (who would later score several hits in the early '80s). The song's original lyrics dealt with teens chatting away on the phone and even though Knight gave the track a quick lyrical overhaul, Ward was less than enthusiastic about the song. Still, she agreed to record it, with Knight providing most of the musical accompaniment. Recorded over the course of two days, "Ring My Bell" turned out to be the best track of the bunch. It resulted in a recording contract with the T.K.-affiliated Juana label, and the release of Ward's debut album, Songs of Love, in 1979. It didn't take long for "Ring My Bell" to scale the charts. That summer, it topped Billboard's Hot 100 and remained on that chart for five months. A subsequent single, "Don't Drop My Love" — taken from the quick-to-follow second album Sweet Surrender — peaked at only number 87. A few songs were recorded during sessions for a third album abandoned prior to completion. They surfaced on various Ward anthologies released during the following decades. Although Ward rarely recorded — she released a single in 2011 — she continued to perform into the 2010s.