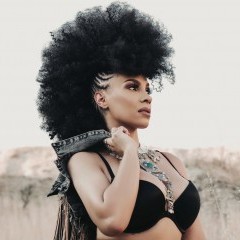 Starting off with becoming a part of the esteemed Actors' Equity Association, she started performing full time all over the world for the past decade including landing TV airtime on the 2012 Season of American Idol as well as being nominated for multiple Henry Awards and played leading roles in renown musicals such as The Color Purple, Avenue Q, Pippin, and RENT.
With that being only the beginning, Ashlie Amber wanted more and set out to create her very own headliner show with a breath-taking tribute and celebration of vocal legend Whitney Houston entitled, "I Will Always Love You." Her show grew to be one of the best acts in international waters landing her a residency onboard one of the world's #1 acclaimed cruise lines and ships. The Celebrity Edge is a $1.2B vessel touring Europe and the Caribbean.
With such a unique approach to the show and with her outstanding vocals and ratings, Ashlie Amber was noticed and invited to work on her own solo material. She is currently collaborating with Grammy and Emmy award winner, Jamie Tate, to create her very first album in the country genre. It is Ashlie Amber's belief rising to become one of the first Black Female Country Stars to have top 40 success and beyond. It will help pave the way for a new generation of music, open-minded thinking and a new outlook on music today.
With Ashlie Amber having just released her very first single on Spotify and all other major music platforms, "Almost Love", she is quickly rising to international recognition and she will be launching her first full-length album later this year.