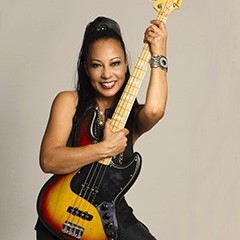 A celebrated Pop, R&B, and Disco icon, Janice-Marie Johnson captivates audiences of all generations with her music. From her timeless melodies to the infectious rhythms of her bass, Janice-Marie's stellar musicianship is always the heart of her hit-filled, roof-raising performances world-wide. Janice-Marie's proof is in the pudding with multiple Gold and Platinum international hits, 3 Grammy nominations and a Grammy award.
As the leader and co-founder of A Taste of Honey, Janice-Marie has kept the groove alive since the group's 1971 beginning. A Taste of Honey took the industry by storm when, for three weeks, they claimed the #1 spot on the Billboard Pop charts with their hit single "Boogie Oogie Oogie" and won the coveted Grammy Award for "Best New Artist." As the writer of "Boogie Oogie Oogie," Janice-Marie received a Grammy nomination in the "Best Rhythm & Blues Song" category; the song also scored the group a nomination for "Best Rhythm & Blues Vocal Performance by a Duo, Group or Chorus."
While A Taste of Honey's album and single being certified Gold and Platinum internationally, A Taste of Honey joined the ranks of an elite group of beloved musicians. They were the first Black group to receive the Grammy Award for 'best new artist'. They were also the first Capitol Records artist received a platinum single and album, hit number one on the Pop, R&B and Dance charts plus be nominated and win the Grammy award 'best new artist of the year'.
A Taste of Honey's follow-up album, Another Taste, kept the momentum going. The album's lead single "Do It Good" scored a Top 20 R&B hit and once again propelled the group into international status. At the "8th Annual Tokyo Music Festival," A Taste of Honey was awarded the Gold Prize and Janice-Marie won the Gold Prize for writing "Do It Good." Both the single and the album were also certified Gold in Japan, foreshadowing the group's enduring popularity throughout Southeast Asia.
On the third LP, Janice-Marie teamed with George Duke who produced A Taste of Honey's Twice As Sweet album. Janice-Marie co-wrote a number of the LP's songs with Duke including, "Say That You'll Stay" and "Don't You Lead Me On." "Rescue Me," the first single from the Twice As Sweet LP, landed in the R&B Top
20. However, it was Janice-Marie's classic interpretation of Kyu Sakamoto's "Sukiyaki" that was the centerpiece of the album. She wrote English lyrics for the song (her lyrics were later translated into other languages) and created innovative marketing plans for Capitol to promote the single. "Sukiyaki" hit #1 on the R&B  and Adult Contemporary charts and gave A Taste of Honey a #3 pop hit plus another Gold single. To this day, Janice-Marie incorporates a stunning traditional Japanese fan dance into her live performances of the song.
Ladies of the Eighties continued A Taste of Honey's hold on the airwaves. Janice- Marie led an inspired cover of the Smokey Robinson classic "I'll Try Something New," which made the R&B Top 10. A popular TV attraction, the group was invited to co-host the Lou Ross television special Rhythm and Ross With A Taste of Honey. Once again, they were off hitting the TV circuit performing on a host of music shows including Soul Train, Solid Gold, American Bandstand, and Kids Are People Too, to name a few. Following A Taste of Honey's Golden Honey compilation, which included a new Johnson composition called "I Want to Be Your Girl," Janice-Marie released a solo album for Capitol, One Taste of Honey.
Janice-Marie Johnson's original music appears in everything from Hollywood movies to video games, and TV commercials to samples by hip-hop artists, too many to name.
With A Taste of Honey's music reaching more listeners than ever, Janice-Marie returned to the studio to record the full-length album, Hiatus of the Heart. Shortly after, she released "Until The Eagle Falls," a song honoring her Stockbridge Munsee-Mohican heritage. The song and music video earned Janice-Marie the "Award of Excellence" and the "Award of Distinction" at the 1st Indian Summer Festival Film and Video Image Awards. Her contemporaries in Native American music awarded her the prestigious Silver Arrow Award and a NAMMY Award for "Best Producer." Janice-Marie was given the extreme high honor of  being  inducted into the Native American Music Awards 'Hall of Fame.' To top it off, Janice-Marie hosted the 15th Annual Native American Music Awards.
With her sold-out performances across the globe and appearances in television specials, Janice-Marie continues to celebrate the legacy of A Taste of Honey. She appeared alongside fellow disco legends in TV One's Unsung disco special, was interviewed on When Disco Ruled the World, and performed on the PBS broadcast of Get Down Tonight: A Disco Explosion. Janice-Marie considers herself blessed. Because her music has crossed multiple platforms, you will find her performing with KC and the Sunshine Band, Sister Sledge, and The Village People one night, and The Bar-Kays or Kool and the Gang the next. Janice-Marie was recently invited as a special guest performer in Brazil's hit musical, 'Rod Hanna On Broadway.' Within six months, by popular demand, she was called back  to  sprinkle her magic on Brazil once again.
Janice-Marie's music is her lifeline. Look for a new A Taste of Honey CD scheduled for release Spring 2020. Her original music is alive and well among today's prominent artists and songwriters. Whether in the studio or commanding an audience of thousands, Janice-Marie Johnson's honeyed grooves are sweeter than ever. So should you find your feet tapping to the beat, don't blame it on the Boogie. Blame it on Janice-Marie!