70s Rock and Romance Cruise 2018
March 3-8, 2018 | Ft. Lauderdale, FL • Falmouth, Jamaica • Georgetown, Grand Cayman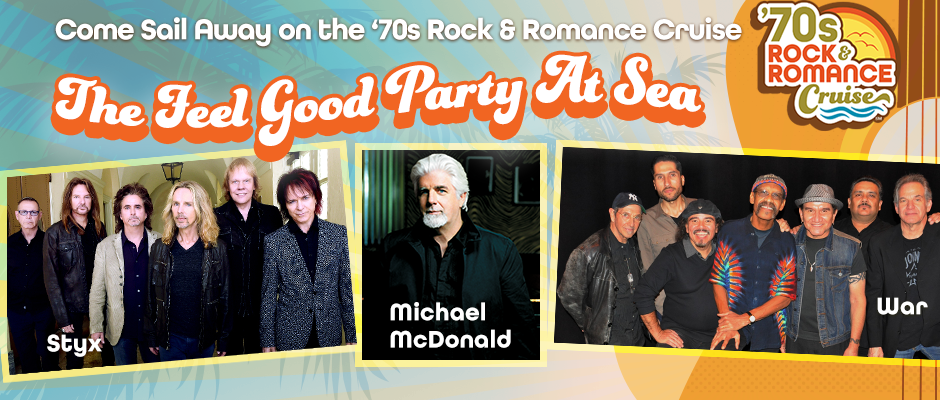 Introducing 70s Rock & Romance Cruise 2018
The 70s Rock n Romance Cruise will bring back the music and those great memories with a star studded lineup that will take us back to the most special times in our lives and help us relive some of life's best moments!
The Feel Good Voyage of a Lifetime!
In addition to the live performances from award-winning, talented artists and beautiful ports of cal, this cruise is non-stop fun with a jam-packed schedule of onboard events.
---
Reliving Life's Best Moments
We'll bring you back to those special moments in your life.  All the feel good memories, all the music and all the fun!  So grab your special someone and get ready to fall in love all over again over a romantic meal on our elegant formal night, throw on your bell bottoms and practice the hustle for our 70s disco party under the stars, relax and enjoy a sunset beach party and more! Dressing in theme is encouraged for these nights!
---
Bring Your Dancing Feet to the Sock Hop
Put on your poodle skirt and lace up those saddle shoes—we're dancing the night away. Dance instructors will be on hand to teach you some classic moves!
---
Vow Renewal Ceremony at Sea
Renew your wedding vows while on the cruise and continue your promise of loving each other forever! A celebrity on the ship will read the vows.
---
Join Us for EVEN More!
In additional to all the above and of course the nightly performances you can enjoy dozens of activities with your fellow cruisers including:
Trivia Contests
Karaoke
Dance Contests
Pool Parties
Join Us for EVEN More!
Enjoy Celebrity-Hosted Activities!
So much more than just a concert, you will have the opportunity to rub elbows with the stars as you interact with rock's romantic royalty while onboard.
Events include:
Artist Q&A sessions
Panel Discussions
Game Shows & Trivia
Cooking Demonstration
Trivia Contests
Karaoke
Wine Tasting
Pool Parties
Aboard the Trip of a Lifetime
Join us on this five-day cruise as you immerse yourself in the music of the love generation.
Grammy-Award Winning Artists
Live nightly performances
Interactive programs with the stars
Special themed events just for Rock and Romance fans
Luxurious accommodations
And MORE!
Enjoy a star-studded vacation with unparalleled access to legendary stars from the era of feel good music. See them during the nightly performances, enjoy celebrity-led activities, attend meet and greets and run into your favorites all week long during meals, pool side relaxing, drinks at the bar and more.
Ports/Ltinerary
Cruise Dates, Ports and Times
| Day | Date | Ports of Call | Arrive | Depart |
| --- | --- | --- | --- | --- |
| Saturday | 3/3/2018 | Departing from Ft. Lauderdale, FL | | 4:00 PM |
| Sunday | 3/4/2018 | At Sea | | |
| Monday | 3/5/2018 | Falmouth, Jamaica | 9:00 AM | 11:30 PM |
| Tuesday | 3/6/2018 | Georgetown, Grand Cayman | 11:30 AM | 10:00 PM |
| Wednesday | 3/7/2018 | At Sea | | |
| Thursday | 3/8/2018 | Returning to Ft. Lauderdale, FL | 7:00 AM | |
Rates/Terms Payment Plans
Payment Plans
What Rate Applies to Me?
If you sailed previously on the '70s Rock & Romance Cruise then you are eligible for the "Returning Guest Rate." If you are a New Guest and have never sailed with us before, then the "New Guest Rate" applies to you. To inquire about the "Returning Guest Rate" please call 866.480.8146 (Toll Free) OR 585.653.8746
| CATEGORY | DESCRIPTION | NEW GUEST RATE | MORE INFO |
| --- | --- | --- | --- |
| PS | Penthouse Suite with Veranda | $6,699 | BOOK NOW |
| RS | Royal Suite with Veranda | $3,899 | BOOK NOW |
| CS | Celebrity Suite with Veranda | $3,299 | BOOK NOW |
| S1, S2 | Sky Suite with Veranda | $2,879 | BOOK NOW |
| A1, A2 | Aqua Class with Verandah | $2,779 | BOOK NOW |
| FV | Family Ocean View Stateroom with Verandah | $2,779 | BOOK NOW |
| C1, C2, C3 | Concierge Class with Verandah | $2,179 | BOOK NOW |
| 2A, 2B, 2C | Verandah Stateroom | $2,049 | BOOK NOW |
| 4, 5, 6, 7, 8 | Oceanview Stateroom | $1,799 | BOOK NOW |
| 9, 10, 11 | Interior Stateroom | $1,499 | BOOK NOW |
| 11 | Interior Stateroom (singles) | $2,199 | BOOK NOW |
| 12 | Inside Stateroom | $1,349 | BOOK NOW |
To inquire about our "Military Rate" please call 866.480.8146 (Toll Free) OR 585.653.8746 . To qualify for Military Rate, you must be provide a DD-214 or a military ID
---
SoulAtSea.com
P: 866.480.8146 (Toll Free) OR 585.653.8746

Ship/Cabins Deck Plans

Click the buttons below to check
Celebrity Summit STATEROOMS & DECK PLANS
FAQ

These Frequently Asked Questions will be a growing list of the most commonly asked questions. Check back often for updates.
Q: Do you have a Military Discount?
A: Yes. To qualify for the Military Rate, you must:
be active duty, retired after 20 years of service, or medically discharged, and
provide a copy of your retired or active military ID card, or DD-214 showing Retired status or 20+ years of service.
Q: What is NOT included with the cruise?
A: Transfers from the Airport to the Cruise Ship, Dining in the specialty restaurants, Personal expenses such as photos, souvenirs & excursions, Airfare, Ground Transportation, Soft drinks and bottled water, Alcoholic beverages, Gambling, Pre-cruise or post-cruise hotels, Travel Insurance, Personal Training Sessions, Spa Services, Any event or activity off of the ship.
Q: What is included in my cruise rate?
A: Port charges, Taxes, Onboard Gratuities, Fuel Surcharge Gratuity, All performances, interviews, parties and events presented on the cruise, There are no performances, interviews or events that require tickets or any additional charge, All meals (Gourmet fare in the formal dining room, casual fare at multiple venues open for meals throughout the day).
There are charges for bottled beverages, including alcohol, and specialty coffee drinks.
The ship offers several specialty restaurants for which a surcharge is required.
24 Hour Room service, Non-Bottled Beverages (i.e. coffee, juices, tea), Fitness center, Pools, Hot tubs, Sauna, In room TV and movies, Full service room cleaning (twice a day), Daily in room fruit presentation.
Q. Is there Internet Access?
A: Yes, most all ships have Internet available and they make it available to you at a charge. They offer various packages and various rates. Check with the cruise line to find out the various packages they offer and the cost.
Q: Can I bring my iron?
A: No, sorry but cruise ships do not allow guests to bring irons onboard.
Q: How far is it from the Airport to the Cruise Port?
A: The Ft. Lauderdale Airport is less than 2 miles away from the cruise port (Port Everglades).
Q: Can I bring my own alcohol?
A: You can bring 1 bottle per person / 2 bottles per room of champagne or wine only. No other alcoholic beverages are allowed. Do not pack it in your luggage; it will be confiscated. Take it with you in your carry-on.
To inquire more, Please call the office at 585.653.8746.
Register
You do not want to miss the The Hippest Trip at Sea again! Register NOW!